In celebration of the upcoming Doctor Who premiere, I'm sharing some TARDIS cupcakes I made for a group viewing Kristofer and I are attending!
To get a really true blue, use concentrated food coloring, often found in a gel form as made by Wilton. Kristofer and I went all the way to Michaels (not that far away) for this, but it's actually available at Walmart (even closer). You won't find it in the baking aisle – instead look in the cake decorating section, usually found near the party supplies or craft area.
I wanted to make a really light and fluffy icing, not too sweet, like the kind my local bakery uses. SO good! Unfortunately, I don't own an electric mixer (I know, what!!) so I had to mix the icing by hand. Not quite as light or fluffy as expected. Still, it was pretty good! Especially once you get past the fact that icing is straight sugar and fat. (Why oh why, healthy foodies, do you make me think about these things?!)

Doctor Who Blue Velvet Cupcakes
Ingredients
For batter:
1 package Duncan Hines Blue Velvet Mix
½ tsp Royal Blue gel paste
½ tsp Violet gel paste
For roux:
5 tbs Flour
1 cup Milk
1 tsp Vanilla extract
For cream:
1 cup Butter
1 cup Granulated Sugar
Instructions
Cupcakes
Preheat over to 300
Follow directions on Duncan Hines mix to make batter
Add the two gel paste colorings
If desired, add more gel for darker coloring
Bake for 18 minutes at 300
Icing
Heat milk on stove
Slowly whisk in flour until dissolved
Cool to room temperature
Make cream by mixing butter and sugar until fluffy.
Add vanilla to room temperature roux, then combine roux with cream and beat until like whipped cream
Ice your blue velvet cupcakes and eat to your hearts' desires.
Notes
Despite using a blue velvet cake mix, this is not a chocolatey cupcake, so I'd recommend adding a tablespoon or so of cocoa powser.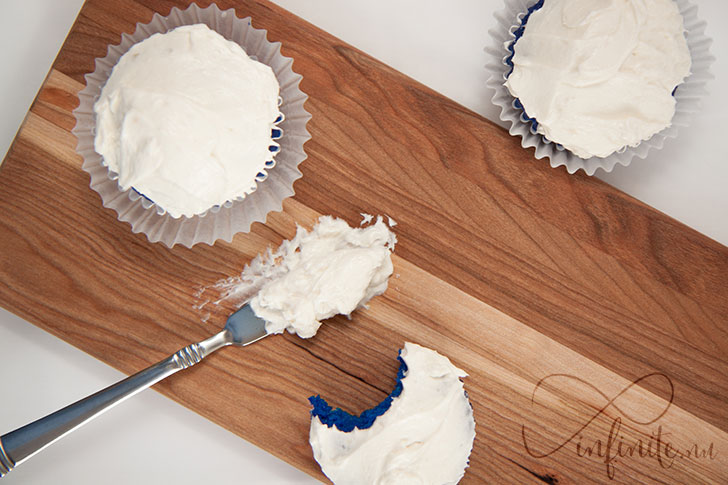 If you're a Doctor Who fan, give me a shout about how you think the current season is going! I looove to talk about TV. :D