When Kristofer told me his coworkers were going to bring in food on Halloween, I started ranting about how we weren't going to bring in another dessert, but would instead make a savory dish for everyone to enjoy!
…then the deadline started creeping up on me, and I realized that I needed to use my Halloween cupcake liners anyway, plus Target had those fake fangs on sale at like 6 for a buck, so how could I miss the opportunity to buy those for a bunch of adults who wouldn't use them? The answer: I couldn't.
So I bought some Wilton orange food dye and a surprisingly good batch of cookies and cream icing.

Halloween Orange Cupcakes
Ingredients
1½ cups all-purpose flour
1¼ teaspoons baking powder
¼ teaspoon salt
1 stick unsalted butter, softened
1 cup sugar
2 large eggs
2 teaspoons vanilla extract
⅔ cup whole milk
Instructions
Preheat oven to 350.
Whisk flour, baking powder, and salt in a bowl
Beat butter and sugar until fluffy
Beat in eggs one at a time
Mix in vanilla
Beat in half the flour
Add milk
Add food coloring to preference, about 2 tbsp
Beat in remaining flour until just combined
Fill cupcake liners about ½ to ¾ full
Bake 20 minutes, or until a toothpick inserted into the center comes out clean
Let cool in pan for 5 minutes
Remove from pan and cool completely on write rack before frosting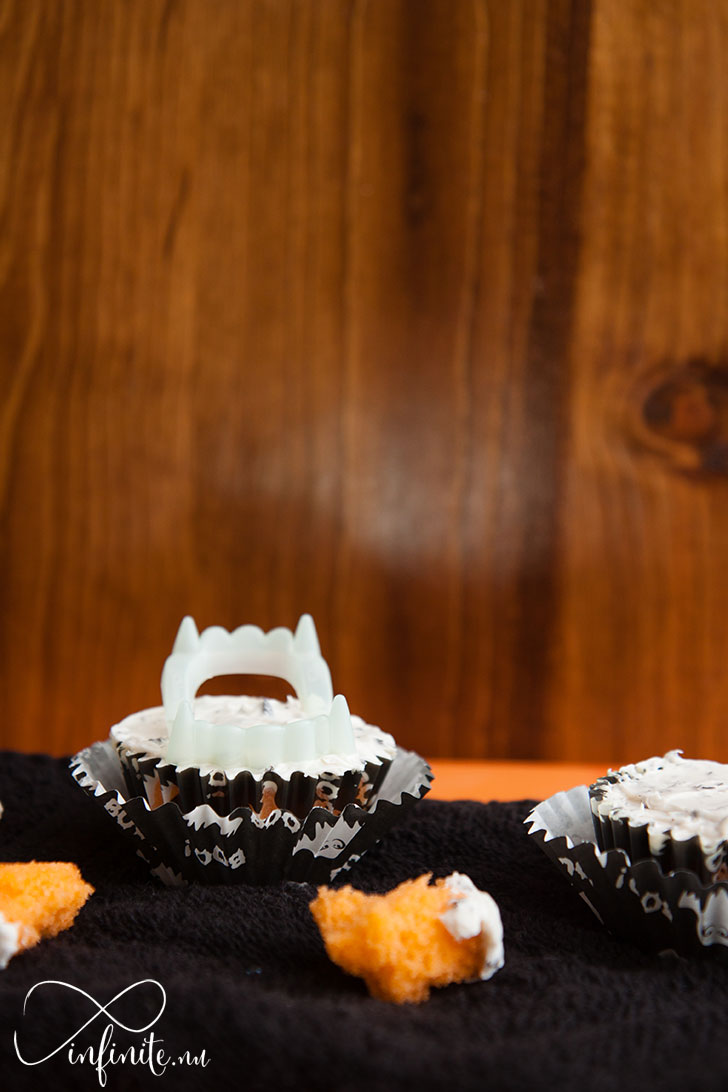 After seeing my insides turned blue from my TARDIS cupcakes, I was a little more conservative with the food dye this time around. I didn't like that my cupcakes were so flat – next time I'll probably just do 12, and fill them more.