Doctor Who Blue Velvet Cupcakes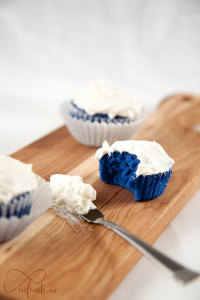 1 package Duncan Hines Blue Velvet Mix
½ tsp Royal Blue gel paste
½ tsp Violet gel paste
5 tbs Flour
1 cup Milk
1 tsp Vanilla extract
For cream:
1 cup Butter
1 cup Granulated Sugar
Preheat over to 300
Follow directions on Duncan Hines mix to make batter
Add the two gel paste colorings
If desired, add more gel for darker coloring
Bake for 18 minutes at 300
Heat milk on stove
Slowly whisk in flour until dissolved
Cool to room temperature
Make cream by mixing butter and sugar until fluffy.
Add vanilla to room temperature roux, then combine roux with cream and beat until like whipped cream
Ice your blue velvet cupcakes and eat to your hearts' desires.
Despite using a blue velvet cake mix, this is not a chocolatey cupcake, so I'd recommend adding a tablespoon or so of cocoa powser.
Recipe by
infinite
at http://infinite.nu/2014/08/blue-velvet-cupcakes/