There's this pin on Pinterest for a cream cheese chicken. It looks like a light, breaded chicken… And it goes into the black hole of the internet, never to reveal the true recipe. Which, in reality, is all-too-common of a Pinterest problem.
The recipe below is the closest approximation I could find, and it really isn't that similar at all. While I wanted a recipe with a thin later of cream cheese between the chicken and the breading, this recipe rolls the chicken around the cream cheese, then breads and bakes it.

Cream Cheese Chicken
Ingredients
4-6 boneless, skinless chicken breasts
4 oz softened cream cheese
1 tbs chopped parsley
1 tbs minced onion
2 tsp lemon juice
¼ cup flour
½ tsp garlic salt
⅛ tsp pepper
1 beaten egg
½ cup corn flake crumbs
Instructions
Preheat oven to 350
Place chicken breasts between wax paper and flatten with rolling pin to approximately ¼ inch thickness.
In a bowl, beat cream cheese, parsley, onion, garlic salt, pepper, and lemon juice until blended.
Spoon 2 tablespoons of cream cheese mix on each piece of chicken, rolling chicken around it.
Coat with flour, dip in beaten egg, then roll in corn flakes.
Drizzle olive oil in a large skillet.
Cook over medium heat, making sure all sides are browned.
Place chicken on a baking dish and bake for 30 minutes, or until juices run clear.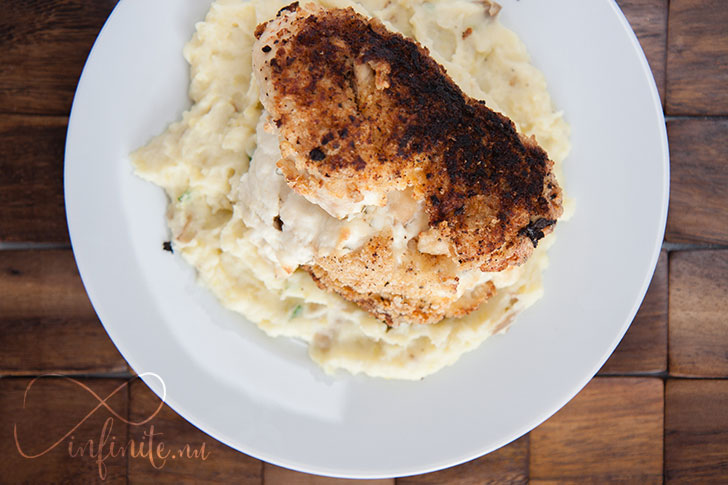 That said… yum. The cream cheese softens the chicken and the whole meal is pretty easy to put together.