Petal Iced Fresh Strawberry Cake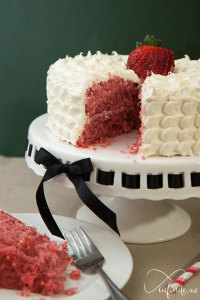 1 18.25oz box white cake mix
1 3oz box strawberry flavored instant gelatin
1 carton fresh strawberries, cored and pureed
4 large eggs
½ cup vegetable oil
¼ cup water
2 containers cream cheese frosting
sliced fresh strawberries for garnish
Preheat oven to 350.
Lightly grease and flour 2 round 9-inch cake pans.
In a large bowl, combine cake mix and gelatin. Add pureed strawberries, eggs, oil, and water.
Beat at medium speed until smooth.
Pour into prepared pans and bake for 20 minutes or until toothpick inserted at center comes out clean.
Let cake cool in pans for 10 minutes.
Remove cake from pans and allow to cool completely on wire racks.
Spread frosting between layers and on the top and sides of the cake.
If desired, garnish with sliced fresh strawberries.
Recipe by
infinite
at https://infinite.nu/2014/10/petal-iced-fresh-strawberry-cake/