This is one of those recipes that is so good you share it with your neighbor. Pan breaded chicken baked in a cream sauce – terrible and wonderful at the same time. This is an ideal leftover meal, as the chicken is moist and the cream sauce helps after microwaving. With a lot of flavor and texture, this is on our to-make-again list!
Print
Basil Cream Chicken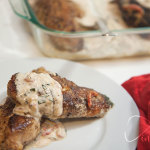 Author:

Lauren Gray

Prep Time:

20 mins

Cook Time:

60 mins

Total Time:

1 hour 20 minutes

Yield:

4
Ingredients
2 tbs butter
1/4 cup milk
1/2 cup italian bread crumbs
2 boneless, skinless chicken breasts, cut lengthwise to make 4 total thinner pieces
1/2 cup chicken broth
1 cup heavy whipping cream
1 4oz jar of chopped pimientos, drained
1/2 cup grated parmesan cheese
1/4 cup minced fresh basil
freshly grated pepper
Instructions
Preheat oven to 170.
Melt butter in large skillet over medium heat.
Pour milk in a shallow dish and place breadcrumbs in a second dish.
Dip each of the pieces of chicken in the milk, then the breadcrumbs.
Transfer to skillet and allow to cook through and brown on both sides.
Place a cooling rack on a baking sheet. Transfer chicken to cooling rack on baking sheet and place in oven to keep warm
Add the broth to the skillet and bring to boil, whisking to remove browning from the skillet and into sauce.
Add in the cream and pimientos, then cook until slightly thickened.
Reduce heat then add parmesan cheese and basil. Season to taste with pepper.
Remove chicken from oven and transfer to a baking dish. Pour cream into dish making sure to coat the chicken.
Bake chicken and sauce at 325 for 20 minutes, flipping once halfway.
Remove from oven and let cool for 5 minutes before serving.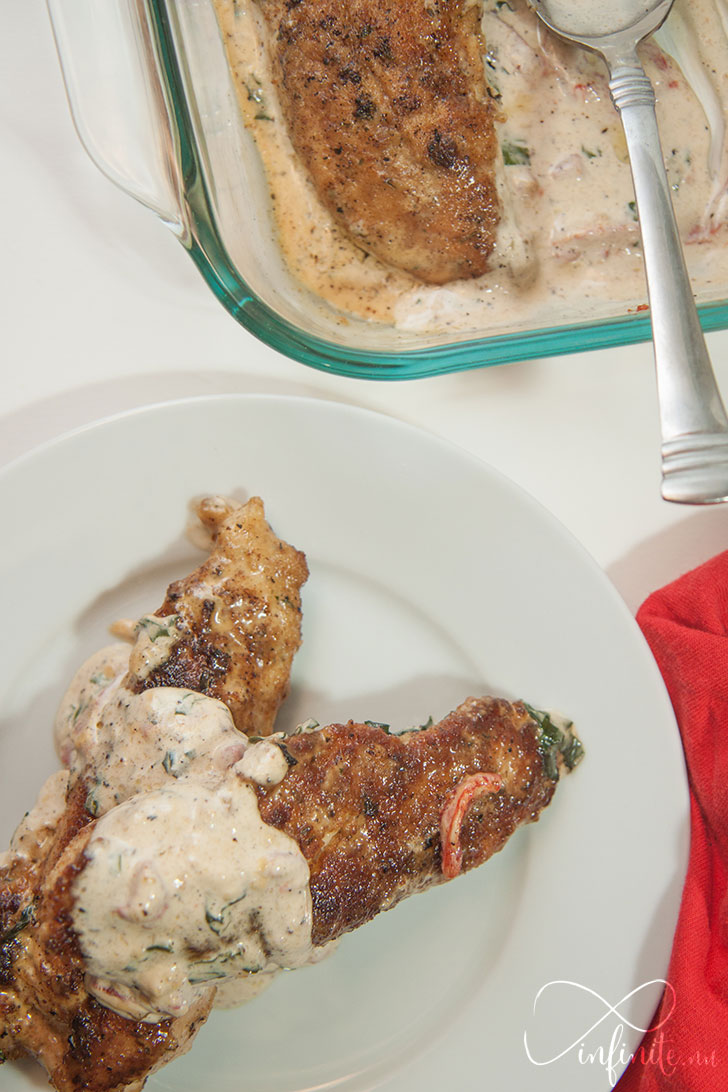 The original recipe doesn't bake the chicken, but instead cooks it fully in the pan and serves with the cream sauce. If you're like us, and your chicken blackens before it cooks, just stick to our modifications for a fully-cooked meal! ;)