About a month into our new apartment without a fridge, Kristofer and I were having to get creative with the food we ate. Eating out all the time isn't affordable (or tasty), but frozen food (because we had a freezer) was just depressing in the amounts we had to consume it.
At the very least, we ended up with a mini fridge… Which means we could keep milk, a small amount of eggs, and pretty much our condiments fresh until we got a "real" fridge. Leftovers that were packaged in small containers were OK, too.
Basically, we couldn't make meals with too many ingredients, and we couldn't make too large of a quantity. So this buffalo chicken was a great compromise, not to mention the best meal we'd had in days!

Slow Cooker Shredded Buffalo Chicken
Ingredients
3 lbs boneless skinless chicken breasts
12 oz Frank's Buffalo Wing Sauce
1 oz packet dry ranch dressing mix
2 cloves garlic, minced
2 tbs butter
Small amount cornstarch & cold water
Instructions
In your slow cooker, combine wing sauce, ranch packet, and garlic. Place chicken in slow cooker and flip several times to coat in sauce.
Cover and cook on high for four hours, until the meat shreds easily.
Remove meat and shred. Transfer to medium serving bowl and combine with butter.
Thicken the remaining buffalo sauce (from the slow cooker) as if you were making gravy (but thinner). Most cornstarch boxes will have instructions, but the basic idea is that you dissolve some cornstarch in a small amount of water. Mix that into your sauce and bring to a boil over medium heat.
Once thickened, pour desired amount of sauce over chicken.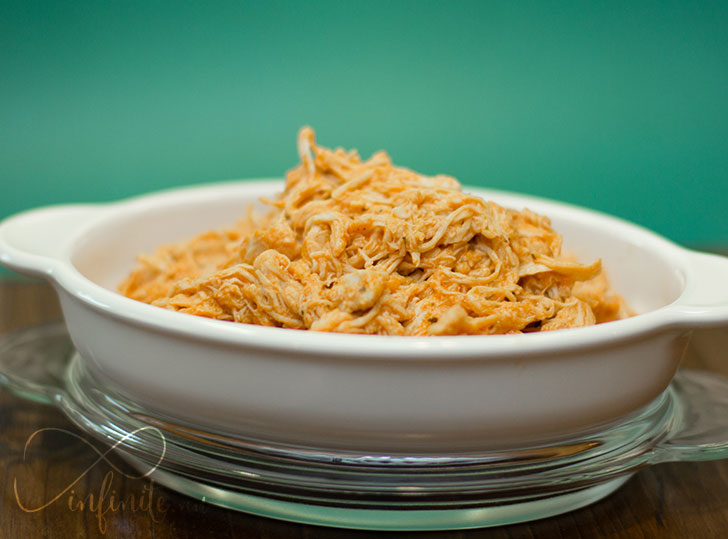 Luckily, I'm totally a buffalo addict, so I used our leftovers in a couple different ways to make the most of the whole situation!