Goooood morning! I don't mean to be a grinch here, but I'm no St. Patrick's fan. A reason for people to pinch me because I'm forgetful?? Thanks, but no thanks. I actually have a green paperclip that I wear every year, but honestly, it's just not cut out for the work. All those people who are overly excited to pinch you easily overlook the paperclip you've attached to your shirt, and there's nothing but an "oops, sorry" before they bound off to pinch the next unlucky soul. Still, an excuse to make a bright green dessert is always on my radar, so today I'm sharing a family recipe my father loooooves: jello pretzel dessert (lime edition).
In fact, it's traditionally made with strawberry jello. In true holiday spirit (and because I love lime flavors), it was mixed up with a green twist. When I told my father I wanted the recipe so I could make it with lime jello, the man became seriously offended. "Why would you make it like that?!" Eventually he came around, but not before making a series of disgusted faces. Has it stopped him from eating it? Nope! He does claim, "strawberry is better though!"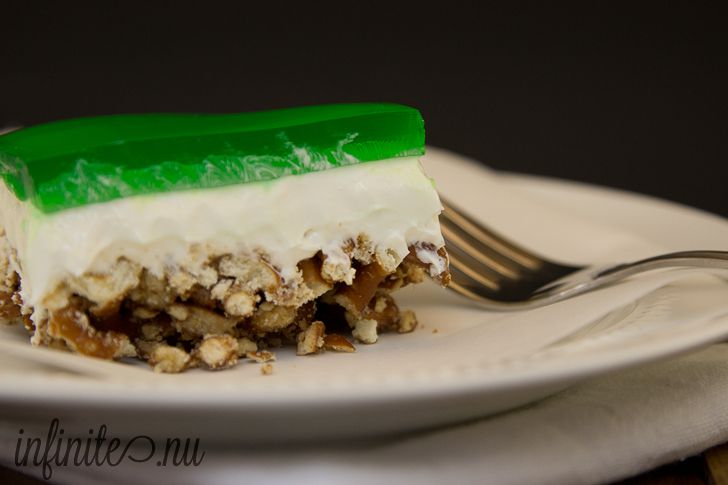 Ingredients
Base
3/4 stick (6 tbsp) melted butter
3 tbsp sugar
2 c. crushed pretzels
Filling
8 oz. cream cheese, softened
8 oz. (1 container) cool whip
1 c. sugar
Topping
6 oz. package lime jello
2 1/4 c. water
Instructions
Make the base by tossing together the ingredients in order. Bake in a 9×9 glass dish at 400 degrees F for 10 minutes. (We like to keep our pretzel pieces a bit intact, but you can always make a finer base depending on the texture you like.)
Place in freezer to cool while you complete the next step:
Make the filling by mixing together the cream cheese and cool whip until smooth. Add the sugar in incrementally until distributed.
Spread this into your 9×9 dish, making sure to completely seal the edges – otherwise the jello will seep through and make your base soggy.
You jello should be made according to these instructions, not those on the box: heat water to boiling and dissolve jello inside. Create an ice bath (just put some ice and water in a large bowl) to rapidly cool your jello mixture, stirring constantly! Once your jello is slightly cool, after about 5-10 minutes, pour over your filling.
Refrigerate the entire dessert. Serve chilled.
Tip: your jello will begin to set very quickly, due to the ice bath! If you are not stirring it constantly or you allow it to sit for a few minutes before pouring it over your dessert, it may begin to set before you're ready to use it. If that's the case, you can easily reheat it a little on low until it thins.
If I were to make this full-lime-style, I'd add lime zest to the cream cheese filling and even top each serving with cool whip and a slice of lime. For now though, this was festive enough for the family. :)