I am especially pleased with myself for today's 14 for the 14th: delicious raspberry filled cupcakes given that extra love with a red velvet color. Yes, I slaved away over these in the kitchen. No, they aren't actually all that hard. Especially when I give you the best time-saving instructions ever. My trial and error is your perfect cupcake!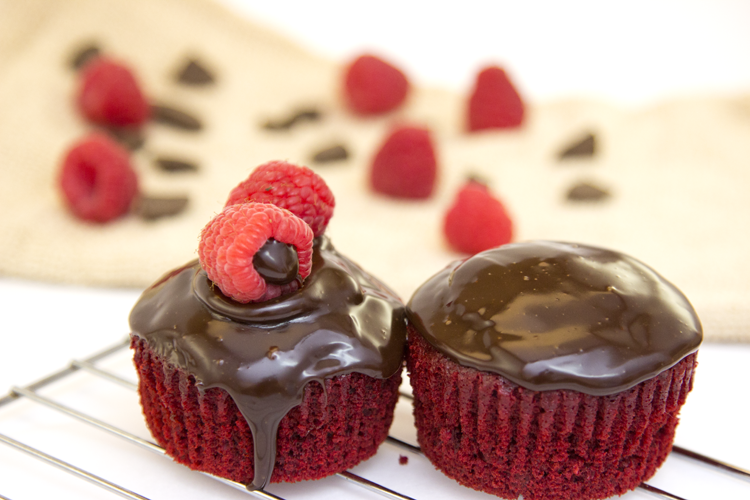 Ingredients:
For the cake:

1 box red velvet cake mix

For the raspberry filling:

12 oz frozen raspberries (room temperature)
1/4 c. sugar
1 tbsp. cornstarch

For the ganache:

10-12 oz. semi-sweet chocolate
3/4 c. heavy cream
1 1/2 tbsp. sugar
1 1/2 tbsp. corn syrup
3 tbsp. unsalted butter (room temperature)
adapted from double chocolate raspberry filled cupcakes at Annie's Eats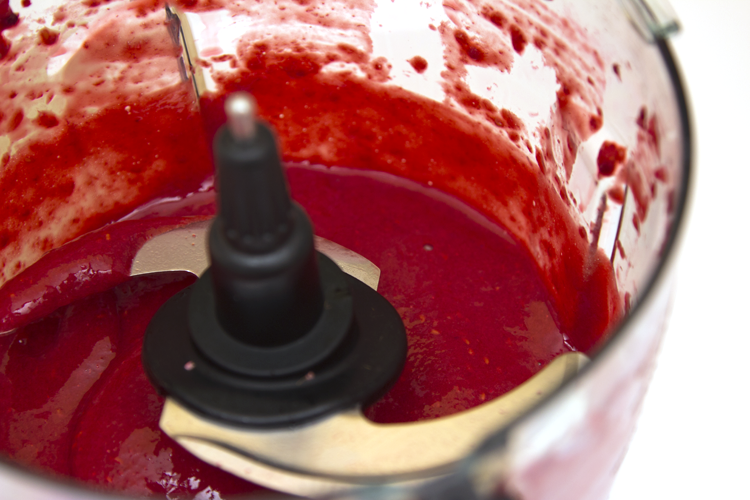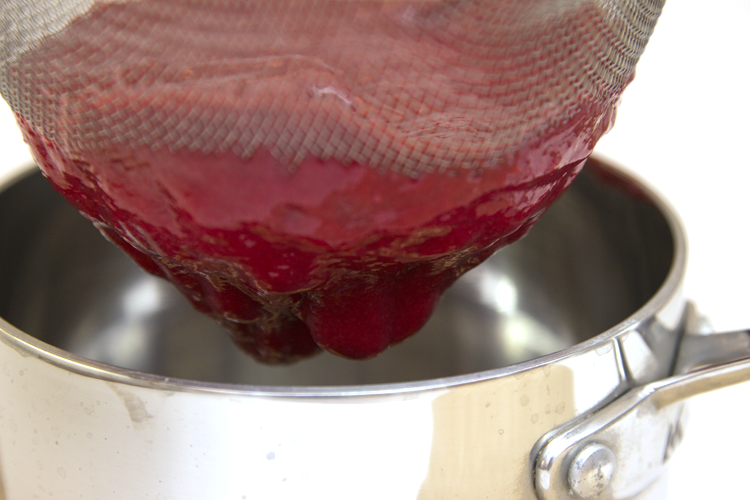 Instructions
Begin by making the raspberry filling.
Puree your room temperature raspberries. Too cold raspberries will not create a smooth, runny liquid needed. (I would even consider using fresh raspberries rather than frozen ones next time.)
Strain your mixture through a find mesh sieve into a saucepan, as you'll be heating them later. The mixture will be very slow to strain, so let that sit while you begin your cupcakes!
Cupcake time: preheat the oven to 350.
Follow the instructions on your box to bake your cupcakes. When finished, place them on a cooling rack.
While your cupcakes are cooking, continue working on your filling.
Back to the filling: helping it strain.
If your mixture has strained, congratulations! If it was too thick to do the work without a little help, use a spatula to move the seeds back and forth so the liquids can pass through.
Once complete, whisk in the sugar and cornstarch and heat on medium to medium-high until just boiling. This will happen quickly, so whisk constantly. Once thickened slightly, remove from heat and chill.
If you want a thicker ganache, use all 12 oz of chocolate. I like my chocolate creamy, so I reduced my chocolate by a bit, to 10 oz. Chop to break chocolate into small pieces and place in a medium bowl.
Heat cream, corn syrup, and sugar on medium high until just boiling, stirring frequently as this too will happen quickly. Immediately pour over chocolate.
Let sit for 1-2 minutes, then whisk in small motions.
Once blended, add butter one tablespoon at a time until blended. Let stand to thicken.
While the ganache thickens, cut into our cooled cupcakes and add filling.
Using your method of choice, pull out the center of your cupcakes. I cut a good-sized cone in mine using a small knife, sliced the top off the cone, and kept it to replace. Do this to all cupcakes.
Hopefully your filling is completely chilled by now. Pull that out and begin piping it into your cupcakes, leaving enough room to replace the "lid" of your cupcake. I used a ziplock bag with my frosting tip for ease, but you can spoon it in too.
Now we're on the last leg of this cupcake event! Frost your cupcakes with your ganache.
I took some good advice and topped mine with fresh raspberries filled with ganache.
That's great; way to make efficient use of your time! I hope nobody reading this recipe makes my mistakes and spends three and a half hours stumbling around in the kitchen. Worth it though, this raspberry filling is to die for.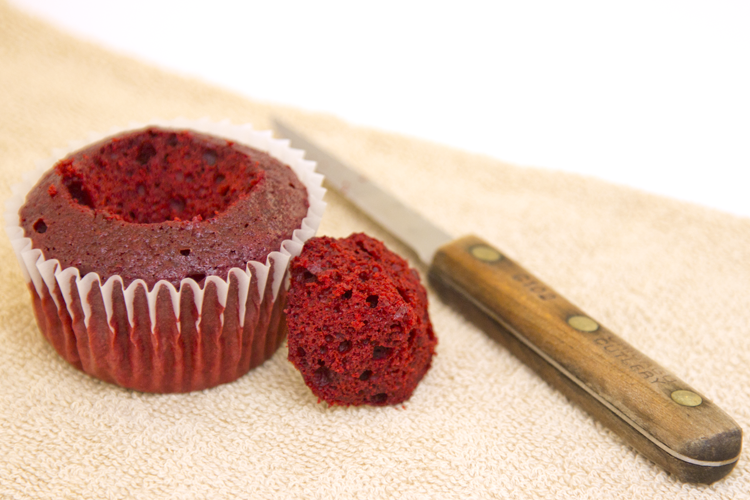 Cut a cone into the top of the cupcake to add filling.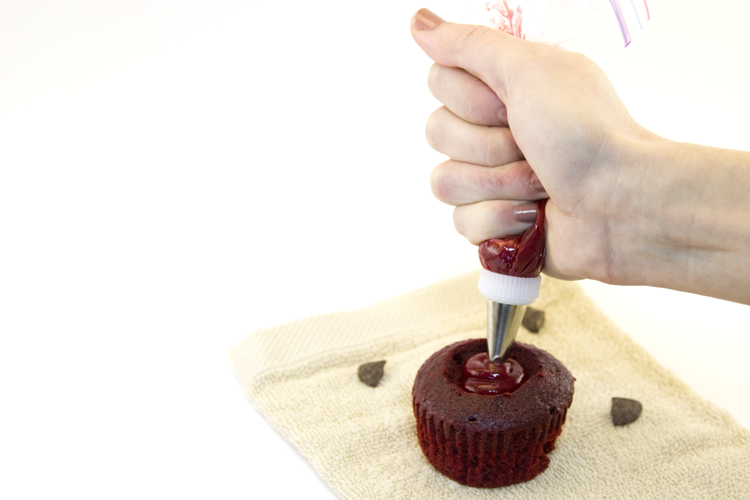 If you're out of pastry bags, a ziplock will do just fine. Using a standard frosting tip, pipe into the center of your cupcakes.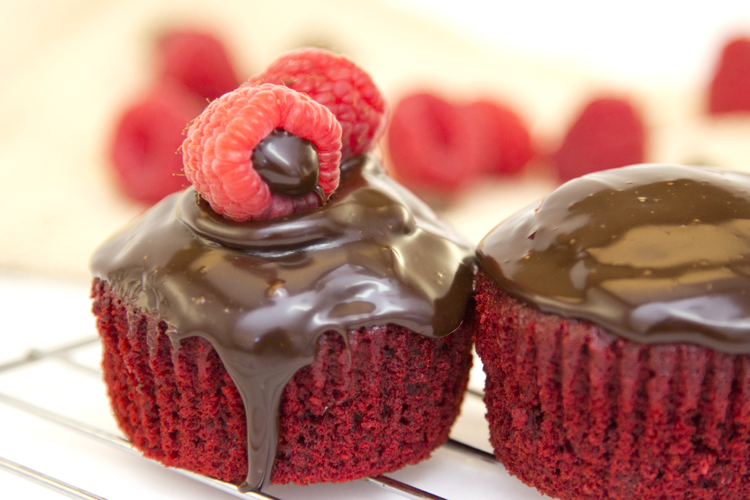 Top with ganache and ganache filled raspberries!
Red Velvet Raspberry Filled Cupcakes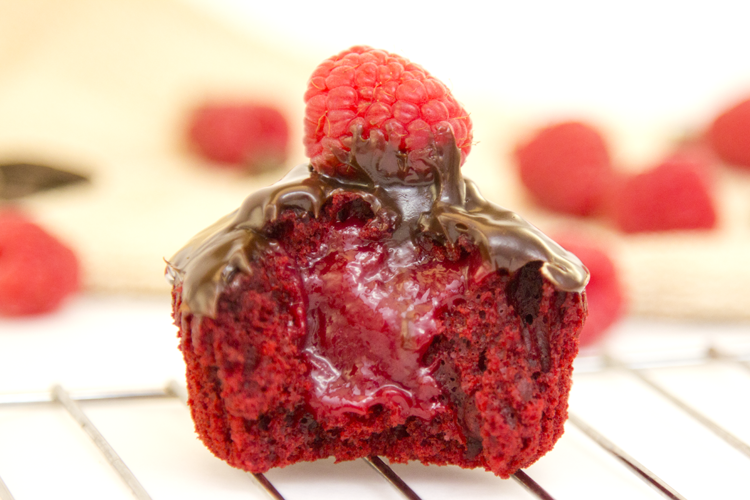 OK, YUM. These raspberry filled cupcakes are to die for. I'm sharing them with everyone, not just my Valentine. :)