So there's this delicious Florida restaurant called Gator's Dockside and they make amazing grilled wings in their own "scooter sauce". It's bbq and honey garlic heaven! (And I am not a bbq sauce fan.) Unfortunately, we don't have a Gator's Dockside location in my home town. Heading over to our own local restaurant, my dad and I ordered up some wings with their own "medium sauce" – buffalo and bbq goodness.
Being a wing addict, it wasn't long before I was craving buffalo sauce again. I searched for a perfect buffalo bbq recipe, but I guess the idea hasn't really taken off yet – I couldn't find exactly what I was looking for. Ultimately, I rounded up enough information to put together my own recipe!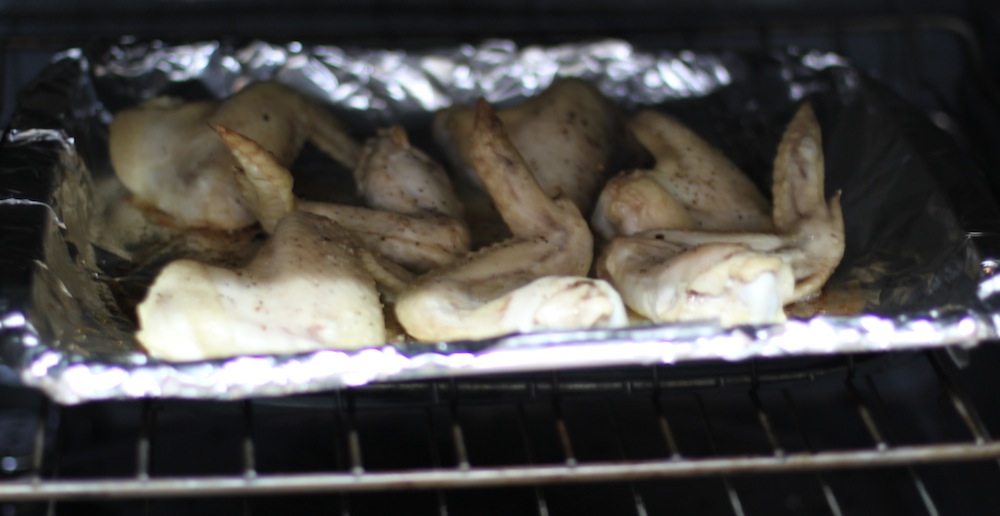 Buying just a package of wings at the store (I think there were about 7 included – they were just over 2 lbs), I pre-heated the oven to 450, foiled my pan (greasing it with a good 1/2 stick of butter), and seasoned my wings with Mrs. Dash, pepper (because my dad looooves pepper), and salt (because I love salt). They needed to bake for about 20 minutes on each side, so I moved on to making the sauce.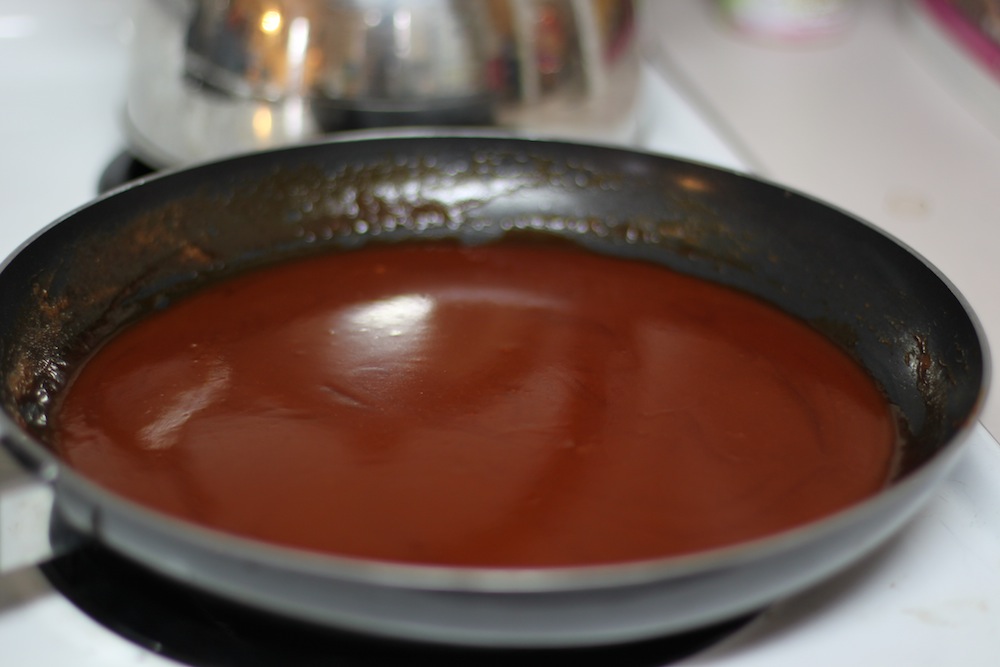 I mixed together 3/4 bottle Franks, 1/2 stick butter, 1/8 tsp. garlic powder (to eye), 1/4 cup bbq sauce (in particular, Jack Daniels), and 1/4 cup light brown sugar over medium heat and when it began to simmer added just a pinch of baking soda so the sauce foamed before settling down – finished!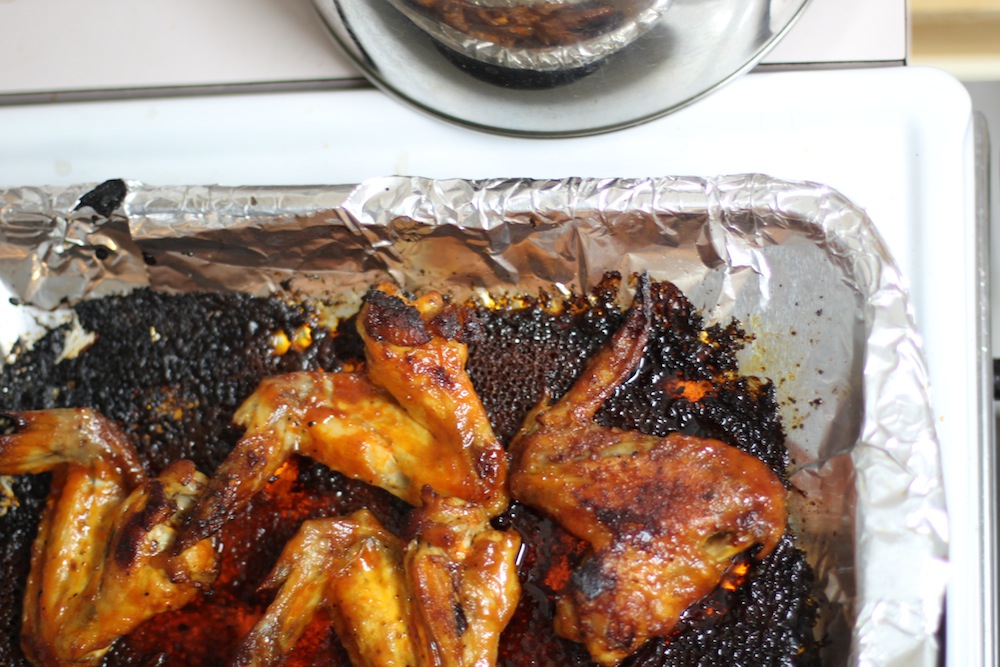 When both my chicken and sauce were ready to combine, I poured all of my sauce over the wings and continued to cook, flipping the wings every 3 minutes so the sauce could fully bake into them. I cooked them about 10 more minutes on each side – or about 3 rotations.
I actually meant to marinate the chicken and grill them (like Gator's Dockside does!) but my father (who does the grilling) was pretty busy during the week and I wanted to see how baking would turn out, since I don't have a grill at my apartment.
The results? YUM. My dad, who loves bbq sauce, particularly enjoyed them. Seriously, if I knew we both liked them so much I'd have made twice or even three times as much.
Just. For. The. Two. Of. Us.
Honestly. They were that good. Next time, I think I'll add about 1/2 to 3/4 as much bbq sauce. It's just not my favorite, and I could taste it. On the other hand, my father said he could really taste the buffalo sauce. Either way, it was a win for us both. :)
Full recipe
Ingredients

3/4 bottle Frank's
1 stick butter (1/2 for sauce, 1/2 to grease pan)
1/8 tsp. garlic powder
1/4 cup bbq sauce
1 cup light brown sugar
pinch baking soda (less than 1/8 tsp)
chicken wings

Directions

Pre-heat oven to 450.
Foil pan, lay wings out flat and season both sides to personal preference.
Cook for 15-20 minutes, flip, and cook another 15-20 minutes. While your wings are baking, prepare your sauce.
Combine Franks, butter, garlic powder, bbq sauce, and light brown sugar over medium heat.
When the mixture begins to simmer, add a pinch of baking soda. Sauce should foam – stir until the sauce in finished.
Once you've cooked your wings, pour the sauce over the wings and coat evenly. Continue cooking, flipping the wings every 3 minutes.
The wings can be done as soon as they have cooked in the sauce on each side once – keeping them in the oven longer will dry the sauce on the outside more.
If you try my recipe, you definitely have to let me know how it turns out! :)