Cream Cheese Chicken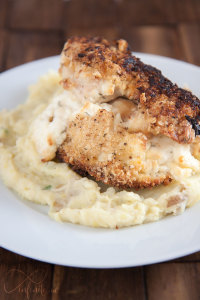 4-6 boneless, skinless chicken breasts
4 oz softened cream cheese
1 tbs chopped parsley
1 tbs minced onion
2 tsp lemon juice
¼ cup flour
½ tsp garlic salt
⅛ tsp pepper
1 beaten egg
½ cup corn flake crumbs
Preheat oven to 350
Place chicken breasts between wax paper and flatten with rolling pin to approximately ¼ inch thickness.
In a bowl, beat cream cheese, parsley, onion, garlic salt, pepper, and lemon juice until blended.
Spoon 2 tablespoons of cream cheese mix on each piece of chicken, rolling chicken around it.
Coat with flour, dip in beaten egg, then roll in corn flakes.
Drizzle olive oil in a large skillet.
Cook over medium heat, making sure all sides are browned.
Place chicken on a baking dish and bake for 30 minutes, or until juices run clear.