Slow Cooker Shredded Buffalo Chicken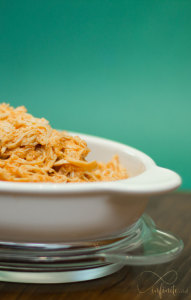 3 lbs boneless skinless chicken breasts
12 oz Frank's Buffalo Wing Sauce
1 oz packet dry ranch dressing mix
2 cloves garlic, minced
2 tbs butter
Small amount cornstarch & cold water
In your slow cooker, combine wing sauce, ranch packet, and garlic. Place chicken in slow cooker and flip several times to coat in sauce.
Cover and cook on high for four hours, until the meat shreds easily.
Remove meat and shred. Transfer to medium serving bowl and combine with butter.
Thicken the remaining buffalo sauce (from the slow cooker) as if you were making gravy (but thinner). Most cornstarch boxes will have instructions, but the basic idea is that you dissolve some cornstarch in a small amount of water. Mix that into your sauce and bring to a boil over medium heat.
Once thickened, pour desired amount of sauce over chicken.
Recipe by
infinite
at http://infinite.nu/2014/09/buffalo-chicken-slow-cooked/